JACKSONVILLE BEACH, Fla. – Florida authorities announced Wednesday an arrest in the mysterious murder of Microsoft executive Jared Bridegan in front of his then-2-year-old daughter nearly one year ago.
Henry Tenon, 61, is charged with conspiracy to commit murder, second-degree murder, accessory after the fact to a capital felony and child abuse for the Feb. 16 shooting death of Bridegan.
Investigators did not disclose the evidence that allegedly links Tenon to the shocking slaying — but his most recent address has a surprising connection to Bridegan's ex-wife, Shanna Gardner-Fernandez.
Tenon lived at 5239 Potomac Avenue in Jacksonville, which was owned by Gardner-Fernandez's second husband, Mario Fernandez, at the time of the murder.
Fernandez purchased the rental property in 2017 and sold it in October, public records show. Tenon appears to have rented the home directly from Fernandez.
Jacksonville Beach Police Department Chief Gene Paul Smith and Melissa Nelson, State Attorney for the Fourth Judicial District, disclosed the major break in the case at a press conference Wednesday at the police department. 
The slain software developer's widow, Kirsten — along with his brothers, Adam and Justin — were present for the announcement. 
"We know that Henry Tenon did not act alone," Nelson told reporters.
Gardner-Fernandez and Fernandez remain suspects in the killing, a law enforcement source told Fox News Digital.
Bridegan, 33, was shot to death after dropping off his twins with Gardner-Fernandez at her house in Jacksonville Beach.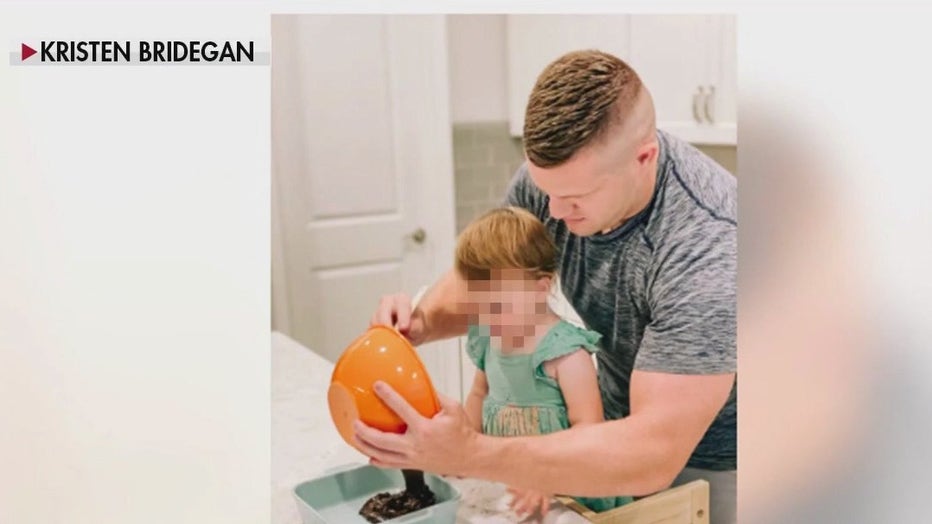 Jared Bridegan was gunned down Feb. 16, 2022, in north Florida. (Kirsten Bridegan)
The doting father was on his way home to St. Augustine when he encountered a tire in the road and was shot repeatedly when he stepped out to move it. Bexley was in her car seat and witnessed the murder.
"That tire was purposely placed there to make him stop," Smith said. "He was gunned down in cold blood."
The police chief thanked the public for their tips on a dark blue Ford F-150 that was spotted in surveillance footage near the crime scene, but did not elaborate on the car's connection to the case.
Authorities released few new details and did not take questions. Nelson said the arrest warrant, which has a narrative of the alleged crime, will be sealed for 30 days. 
Tenon has his first court appearance Thursday. It wasn't immediately clear if investigators believe he pulled the trigger.
Tenon, who has prior convictions for burglary, misdemeanor battery and traffic offenses, was arrested Aug. 18 on unrelated charges of weapon possession by a convicted felon, driving with a suspended license and speeding, jail records show.
Tenon has been locked up since at the James I. Montgomery Correctional Center, where he was served with an arrest warrant for Bridegan's murder Wednesday morning. 
Bridegan had been locked in near-constant litigation with his ex-wife over finances and custody of their now 10-year-old twins since their 2016 divorce — a courtroom showdown that only ended with his death. 
Shortly after Bridegan and his ex-wife split up, she asked a tattoo parlor staffer if he knew anyone who could "shut him up."
Amid mounting public scrutiny over her ex's murder, Gardner-Fernandez moved 2,800 miles to the Pacific Northwest late last year, Fox News Digital exclusively reported Tuesday. 
Her wealthy parents, Sterling and Shelli Gardner, used an LLC to secretly purchase a $1 million home for her in West Richland, Washington, property records show.
Fernandez did not make the cross-country move with his wife and had moved out of the Jacksonville Beach home the couple co-owns weeks after the slaying, according to neighbors.
The couple is represented by high-powered criminal defense lawyer Henry Coxe III, who declined to comment on the major break in the case.
Haley Chi-Sing contributed to this report.