A class-action lawsuit against the owner of a refinery that produces aluminum ore used to make cars and EVs, including the Ford F-150 Lightning, argues that the refinery is polluting nearby rivers and streams, and endangering thousands of Brazilians in the process. The lawsuit represents 11,000 residents who live in communities close to the Hydro Alunorte refinery in Barcarena, Brazil, which is owned by the Norwegian aluminum company, Norsk Hydro ASA.
The suit's plaintiffs say that Norsk Hydro is responsible for an epidemic of illness that stems from rampant pollution at the refinery; those living in communities nearby allege that toxic waste is seeping into the water supply of Barcarena, according to an investigation by Bloomberg. The lawsuit will try to hold Hydro accountable for 10 incidents that have polluted and endangered the community, and these incidents go back for nearly two decades.
The Hydro refinery is allegedly releasing trace amounts of aluminum and other heavy metals (arsenic, chromium, cadmium, lead and nickel) into the area, which has led to birth defects and cancer, among other horrific illnesses.
According to the report, ore from Alunorte can be traced to aluminum used to build the Ford F-150 Lightning in the U.S. automaker's Rouge Electric Vehicle Center and Rouge assembly complex, overall, where the best-selling vehicle in America is made. Go read this report, because it's a thorough look into the allegations of pollution in the Amazon, which could only get worse as the industry ramps up production of fully-electric vehicles.
G/O Media may get a commission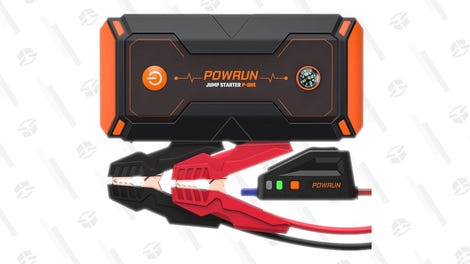 36% Off
Powrun P-One Jump Starter
Power up
This jump starter is incredibly easy to use, has an LCD display to help you stay updated, and has plenty of protection built-in to keep the user safe.
Bloomberg explains that Ford switched from heavy steel to lighter aluminum to build the F-150 in 2015, and now that the truck will be sold as an EV, the company will need to offset the truck's weight even more due to the F-150 Lightning's battery. Basically, the advent of EVs will require increased mining and production of the lightweight metal to balance the load of heavy batteries in EV models like the Lightning. Automakers are looking to squeeze every last mile of range out of their upcoming EVs, including Ford.
Whereas the average North American car contains 500 pounds of aluminum, the Lightning's frame requires 682 pounds to make: the metal is used in the windshield header, frame tubing and exterior panels, as well as the rockers, according to Ford. But since the U.S. produces less than one million tons of the five million tons of aluminum it needs per year, America imports up to 75 percent of all the aluminum made in Canada, which, in turn, is made with ore from Brazil — painfully and dangerously mined from the Amazon rainforest.
The danger doesn't come from the actual mining per se, as heavy machinery claws rust-colored bauxite from the soil, per Bloomberg, but from the toxic waste of mining and refining bauxite into white alumina powder, which then goes on to become the lightweight metal used to make laptops, phones and cars — both electric and gas-powered.
The byproducts of refining bauxite into alumina have seeped into the water supply in Brazilian communities, and have been for years, argues the lawsuit. In 2018, Norsk Hydro was hit with a $6.1 million fine for discharging untreated waste water from the Alunorte refinery during a flood. But the pollution goes back decades, and involves a network of mining majors in Brazil — including Alcoa and Rio Tinto.
These companies, as well as the country of Brazil, respectively operate and host an export network that sends aluminum ore all over the world, with one third of Hydro Alunorte's alumina going to North America. Alcoa was once Ford's main supplier, but Ford switched to Hydro in 2016; Ford maintains its supply chain carries Aluminum Stewardship Initiative certification, which means it's vetted by an independent third-party to ensure producers are sticking to certain standards.
But what good is an ASI seal of approval to the people of Barcarena who've fallen ill, and many of whom are indigenous? Indeed, among the most shocking and, frankly, disheartening revelations in the Bloomberg report are the first-hand accounts of residents who live near the refinery who show elevated levels of lead in their blood and hair. For example:
Researchers studying the communities around the Alunorte refinery in Barcarena, a vast industrial landscape of slurry tanks and tailings ponds on the outskirts of Belém, have found that rivers and streams are polluted with toxic metals. Some were at levels 57 times greater than what health experts consider safe. Residents showed Bloomberg the results of medical tests with even higher levels — in the case of one woman, 175 times the limit for aluminum in her hair and 81 times higher in her blood.
The report goes on to cite many other residents, saying:
"Every single day we die a little bit," says Maria do Socorro, 57, whose community group Cainquiama is the lead plaintiff and who lives in an open-air house not far from the refinery. Her grandson's organs broke through his skin at birth, and eight people in her family have been stricken with cancer, she says, including herself and her husband, who she says died as a result. "We are victims of this company, Hydro. They come and make money and leave nothing for us."
It's a long and exhaustive explanation of the lawsuit and the conditions that precede it, but I encourage you to read through all of it because it reveals how aluminum is just one more raw material with a troubled origin that will be used to make so-called eco-friendly EVs like the Ford F-150 Lightning.
It describes just how the effort to decrease frame weight through increased use of aluminum is coming at great cost for those in the rainforest exposed to the toxic waste of mining and refining materials for EVs. For now, all residents of the neighboring communities can do is sing solemn songs and look on as the bodies of water and the soil that sustains them turns the color of rust. Bauxite mining in Brazil is due to double in the coming years, due to projected demand for aluminum.